Welcome to the FRET community
A hub for joint scientific efforts in the field of Förster resonance energy transfer
The Mission of the FRET Community


Many members of the FRET community have come together to set the groundwork for FRET to become a recognized and routine tool for dynamic structural biology. In the position paper titled "The FRET-based structural dynamics challenge – community contributions to consistent and open science practices", we assess the state of the field, outline 'soft recommendations'
Read More »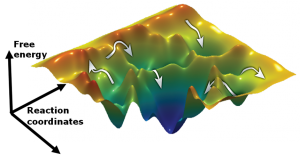 Dear FRET community, please see below an announcement from Hagen Hofmann, Ben Schuler and Gilad Haran. The recordings of the webinar are available under the following link: https://www.youtube.com/channel/UCgisFWvIeKh5cqLM_0Z-_fA Dear friends, We are happy to announce a new, bi-weekly series of Zoom seminars dedicated to Protein Folding and Dynamics. The goal of this series is to allow
Read More »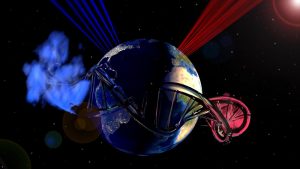 Dear FRET community, We are pleased to announce that the elections for the inaugural advisory board are now open. To cast your vote, login to the FRET community website and go to the elections page (https://www.fret.community/election). Voting is possible until March 30, 23:00 CET. As we have based the FRET community on a bottom-up approach,
Read More »
After discussions with many colleagues, we are excited to take the next step and announce the launch of the FRET community (https://www.fret.community/). The aims of the community are:
●    to advance the presence of FRET studies in spectroscopy and imaging among the scientific community
●    to serve as a hub for the dissemination of news, developments and activities within the community
●    to organize joint community-driven experimental and computational challenges
●    to promote sharing of data and tools and to encourage community-driven development of analysis tools
●    and to establish guidelines for documentation and validation of experiments, analyses and simulations.
We hope that you will join us in working towards these goals and become a part of the growing community.
We are looking forward to welcoming you in the FRET community. Register today and stay tuned for future activities.
Sincerely yours,
Anders Barth, Thomas Peulen, Hugo Sanabria and Claus Seidel
Satellite meetings at BPS and MAF 2020
We are happy to announce that last year's events at the Methods and Applications in Fluorescence Conference will make a return in 2020.
The business meeting at the Biophysical Society Meeting has concluded and a recording is available on the events page.
© Copyright – MAF2020 – BPS2020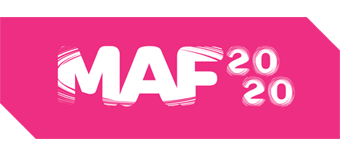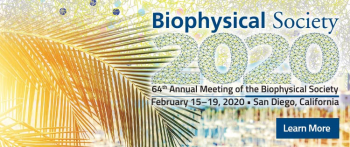 Over the past decades, Förster resonance energy transfer has evolved into a routine tool in the life sciences. Inspired by our recent joint study on the precision and accuracy of FRET, we hope to channel the efforts of community to advance the field within the scientific community.
To the right: The number of publications per year containing the keywords "FRET" or "single molecule FRET" in the title or abstract (Source: Web of Science).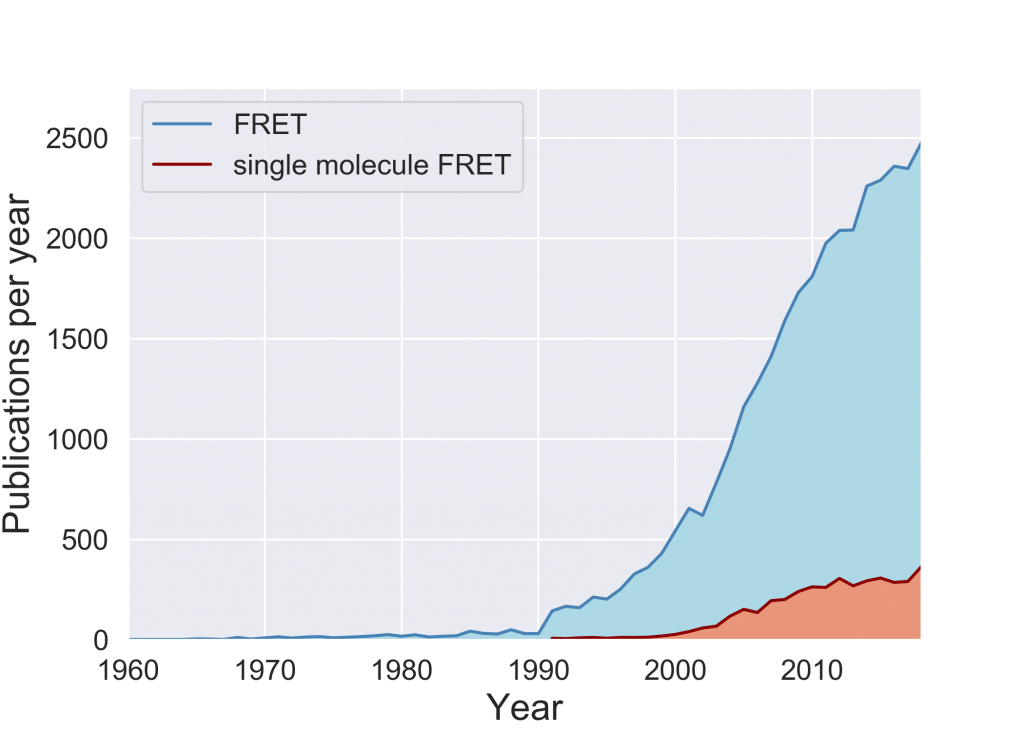 The community is just getting started. If you have ideas, feedback, or would like to get involved by organizing activities within the community, please use the contact form below.